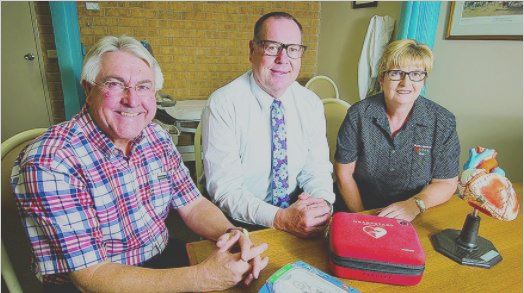 Heart starter a life saver.
By Caitlyn Morgan - compliments of Sunraysia Daily 14.3.18
This week Mallee Accommodation and Support Program (MASP) became the 38th recipient of a defibrillator from
Mildura Cardiology.
It 's been a decade since Mildura Cardiology first donated a defibrillator to a community group and in that time two lives
have been saved.
Mildura Cardiology cardiologist Dr Alan Soward said Mildura Cardiology had provided many organisations with
defibrillators, including all Sunraysia Football and Netball League and Millewa Football League clubs.
"There have been tragic deaths in the sporting community with young people dying unexpectedly, so we thought if we
can donate these to the sports clubs, it would make a big difference to the community" Dr Soward said.
"These devices can save lives. If a person has a cardiac arrest they can restore normal heart rhythm".
"There is also the opportunity to find out what the heart problem is that led to the cardiac arrest, this information can
prevent it from happening again".
Dr Soward said the devices were fairly simple to use and no training was required, but with each device donated the
staff at Mildura Cardiology had provided instruction. "It all started off by wanting to do something for the community
and defibrillators were only just starting to appear in public locations" Dr Soward said.
"After we donated them to the sporting clubs it was well received, we expanded the donations to other sporting clubs,
schools and not-for-profit organisations".
"We know that two of the donated defibrillators have been used and were successful both times".
It was while completing first aid staff training that the need for a defibrillator was raised at MASP.
"We are a large organisation, with multiple campuses, many clients and 111 staff" MASP chief executive Gary
Simpson said.
"The defibrillator will help us respond to any critical emergencies".
"If you only use it once, then it was worth having one and it gives us peace of mind".
"At this stage we will be placing the defibrillator in the day activity centre but will look to purchase one or two more in
the future" he said.
"Any organisation with more than 100 staff should consider investing in one".
Practice manager at Mildura Cardiology Raelene Johns said it was important for those with defibrillators to regularly
check the use-by dates of the pads and batteries.